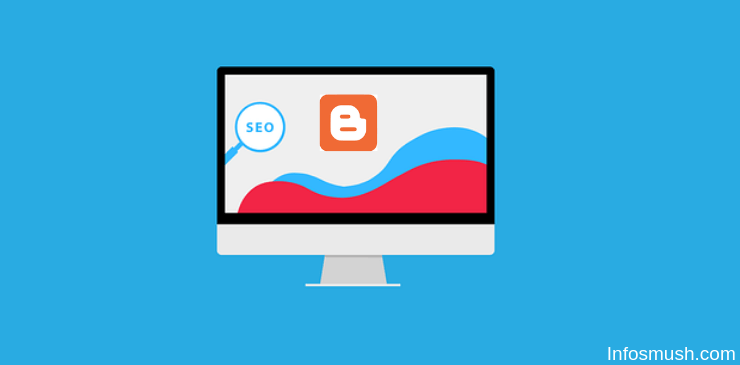 Due to the flexibility that BlogSpot(also known as Blogger) offers, it is one of the most popular platforms for free hosting and free (subdomain; example.blogspot.com) blog. But every freebie has its disadvantages. One of the disadvantages of a BlogSpot blog is the difficulty to optimize it for search engines(SEO).
Read: Ubersuggest Guide: How To Use Ubersuggest For Keyword Research
That doesn't mean you can't optimize your blog to rank higher in search engine results pages. Yes, it's difficult than WordPress, but it can be done.

In this post, I'll share with you 15 BlogSpot SEO tips for your blog that you can implement right away.

15 Blogger SEO Tips To Rank Higher on Google
1. Optimize Post Title:
Out of all the steps that you can take to optimize your blog for search engines, the title of your post is probably of greatest significance.

You might not be able to rank for a keyword even after writing an in-depth and high-quality article if your title is not right.
Your title should contain the keyword that you want to rank for. The earlier the better. If you can insert the keyword at the beginning of the title it will have more impact. But don't make it look unnatural.
A great way to add your targeted keywords at the beginning of your post title is to use a hyphen (-) or colon (:).
For example; BlogSpot SEO: The Only Guide You'll Ever Need.
Not only should your title attract search engines but also the "searcher". Your title should tell what the users can expect from your post. And why should they click on your post title out of all the others?
If your post title is appealing and unique you will get more clicks even if you don't rank at the top.
2. Keyword Density:

Keyword density refers to the number of times you repeat a keyword.

A keyword is a term that users enter to look for what they want. It can be just one word or a set of words.

If the keyword is inserted too many times in your content, Search engines will mark it as spam. But if there are not enough keywords it may not be recognized. For BlogSpot SEO it is important that the keyword density of your post is right.
To check the keyword density of your posts you can use this free tool.

If you think there are too many keywords, try using synonyms and rearranging the words

For example; If the keyword SEO occurs excessively in the article, you can replace some of them with Search Engine Optimization. Both mean the same thing just as cash is a synonym of money. To move around the words in your keyword you can do something like this: BlogSpot SEO = SEO Guide for Blogspot bloggers, etc.

3. BlogSpot Post Permalinks:
You can optimize the Permalinks of your BlogSpot posts for SEO. Permalink is the URL of your posts. It is not as important in search engine optimization as it used to be. But it still has some value.

You have the option to modify the permalink of posts in the Blogger post editor page on the right-hand side.
Blogspot automatically creates permalinks for posts. These are based on the post title.
To modify the permalink of a post Click on Permalink > Custom Permalink and modify it however you wish.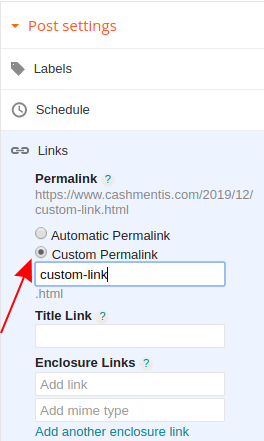 Don't make your Permalink too long though. 3-5 Words are enough and don't forget to insert post keywords.
4. Post Labels:
Blogger uses Labels to categorize your posts. This helps your readers when they want to access more blog posts from a certain Category.
You can make use of the Labels to optimize your blog for search engines.
If possible create Labels so that it adds to the keyword density of your blog posts.
For example; let's say you already created a label "Health". The post that you are writing talks about personal hygiene. You can create another "Hygiene" or "personal hygiene" label.

Adding more labels is good for BlogSpot SEO but don't add too many. It might confuse both the readers of your blog and search engines. Add new labels whenever you think the post you are writing doesn't completely fall into any of the existing ones.

5. Theme:
Blogger provides a limited number of official themes and sadly, none of them are completely optimized for search engines.

The good thing is Blogger gives you the ability to use custom themes. You can download an SEO friendly template and apply it to your blog.

Be sure to backup your existing theme before you apply a custom them.

It's not easy though, many themes have widgets and menus that you need to customize to suit your blog.

You can download free SEO friendly templates for BlogSpot.
6. Remove Unnecessary Widgets/Plugins:
Widgets are compact programs that add additional functions to your blog. Blogspot lets you add an unlimited number of official and third-party Widgets.

You can use widgets to display social buttons, related posts, popular posts, better-looking feed subscription forms, and more. But using too many widgets can hurt your blog's SEO.

If there are too many Plugins your site will slow down. It will take longer to become interactive. This will force users to click away.

You don't want that.

So only keep the widgets that add to the user experience and are necessary.

You can add fancy widgets if the purpose of your blog is entertainment.

7. Moderate Comments:
As your blog starts to get more traffic you'll get more comments and feedback. But not all comments add value to your post. In fact, the majority of comments are spam- trying to promote their own blog and linking to it, not relevant to the topic, etc.
While good comments help in search engine optimization, spam may do just the opposite.
Words in the comments also add to the keywords of your posts, so while you are replying, try to slip in keywords related to your post.
To minimize spam comments in Blogspot, you can change BlogSpots comments settings as in the screenshot below:

8. No-follow links

Nofollow is an attribute for hyperlinks that tells search engines to not to follow it.

By adding a no-follow attribute to your outbound links you prevent web crawlers(most of the time) to associate your blog to the linked page. "Most of the time" because studies by various sites and blogs =have shown that nofollow links do carry some value.

They are not as powerful as dofollow links but Google does follow them.

Nofolow link: <a href="https://www.infosmush.com/" rel="nofollow">Link Text</a>

Dofollow link: <a href="https://www.infosmush.com/" >Link Text</a>

Use nofollow for affiliate and other links that you don't want your blog to be associated with. For others use dofollow links.

In BlogSpot, it's easy to add the nofollow attribute to your links. Just tick the checkbox as shown in the image below:

9. Image size
Optimizing the file size of your images is a great way to improve the SEO of your Blogspot blog. Keep the file size of your images to a minimum. Don't use high-resolution images unless absolutely necessary.

Blogger does use Gzip for your Blogspot blog's data(HTML, CSS, Javascript, and text) but there is no option to automatically compress images.

It's up to you. You can use an online tool like TinyPNG to compress your images without losing quality or use a free image editor software like Photo Scape.
10. Sub-Headings:
Use sub-headings to optimize your blog for search engines. Blogspot's editor already comes equipped with the function to easily add headings and micro heading.

Sub-headings help search engines and your reader to better understand your article get to the important parts quickly.

11. Mobile-Friendly Theme for Blogspot SEO
Today, more than 50% of internet traffic comes from mobile. Consequently, it is vital that your Blogspot theme is mobile friendly.

This is not a problem if you are using one of Blogspot's official themes.

But if you are using a custom theme make sure it is easy to navigate on mobile.

12. Image Alt-text and Title
Another step that you can take to improve your BlogSpot blog's search engine ranking is to add alt text to your images. Alt text is displayed when images fail to load.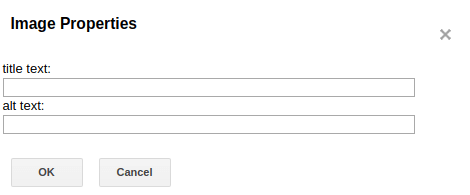 So alt-text is valuable for BlogSpot SEO because it tells search engines what the image is about and indirectly, what the post is about.

Add the post keywords in the alt and title text of your images.
13. Image Caption
Just like alt and title text caption is also used to describe images. It does the same thing but for the readers. It tells the readers about the image.
Don't use the same keywords though. Google might think of it as keyword stuffing. Try to use different keywords for image alt/text and caption.
14. Search Description
Search Description also known as meta description is the piece of text that you see below the title in SERPs:

If you don't provide a search description Google will show anything relevant to the searched keyword.
Search description on its own doesn't have much of an impact on your rankings. But it can improve your CTR(click-through rate) which will help you rank higher.
Your goal is to write a description that entices users to read your post. But don't try to mislead them, this may increase your bounce rate which is really bad for SEO.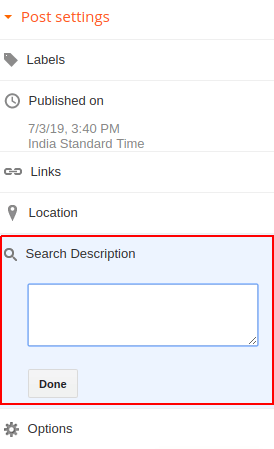 15. Create Better Content:
One of the biggest mistakes people make while using Blogger is that they don't put a lot of effort into creating good content.
This is the same mistake I made.
The reason for this is mainly because you don't pay for anything. Since it's free you don't feel obliged. That's why it's better to at least buy a domain name and host it on Blogger.
Bonus: On-Page SEO Tips:
Here is an infographic with 16 on-page SEO tips from Backlinko.
So these are the 15 Blogspot SEO tips that help your Blogger blog rank higher. However, ultimately what matters is the quality of your content. If it's not good enough readers won't spend much time on your blog. When that happens, it doesn't matter what you do to optimize your blog for search engines.
Which of the BlogSpot SEO tips listed in this guide you didn't know about?