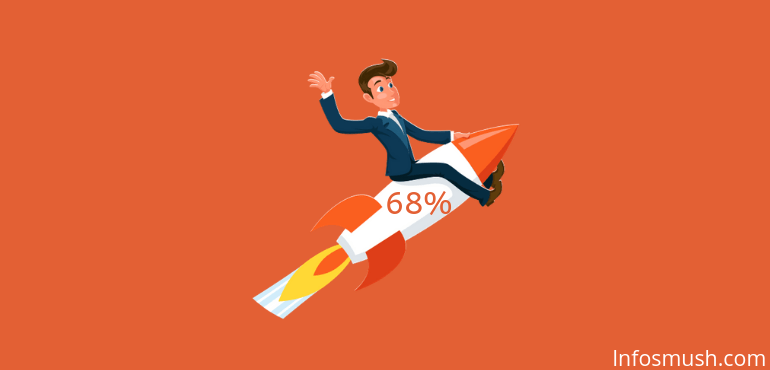 As a blogger, you could be doing keyword research, (trying to) build backlinks, writing amazing content. And still won't get the desired results.
You have probably realized that ranking on Google takes more work and time.
In late 2017 I was going through something similar.
Infosmush was a hopeless case.
Let's start from the beginning…
When I started this blog(in May 2016), I used to write reviews of incentive websites(well I still do from time to time).
I used to make some money using sites like Swagbucks, Gift Hunter Club and so on. So that's what I wrote about.
I kept trying new sites so I could write more.
At that time I didn't know much about keyword research or SEO.
Actually, I never felt the need to learn SEO. Because one of my earlier blogs was able to get 1000+ views/day without me doing anything special. (We'll talk about that some other time.)
So I would write reviews and hope for them to drive traffic.
I believed, repeating the keyword that I wanted to rank for a few times was enough to impress Google.
Obviously, that didn't work. I learned that after a year when my traffic didn't budge at all.
This is how my traffic looked on June 2017:

Another reason was that I was blogging casually. I had about 30 posts in the first 12 months. That's why it took me so long to realize my mistakes.
The results weren't encouraging me to continue blogging either.
But still I started to learn bit by bit about backlinks, keyword research, writing bigger pieces of contents, using images, etc.
And most of all "competition".
Now everything was clear to me.
Why I wasn't ranking: My posts were kind of crappy, thin and lacked images and the other blogs were way older.
So I improved my posts and did other things to rank higher. I even used free backlink generators. But thank god they were fake and Google never found out about them.
After 6 months, many of my posts shot up to rank in the top 5 for a few keywords.
But their search volume was low so my organic traffic stayed below 50/day.

That's when I tried something new.
Something that not only helped me drive more organic traffic from Google but also make more money.
To be exact, I was able to increase my traffic by 68% in just 10 days.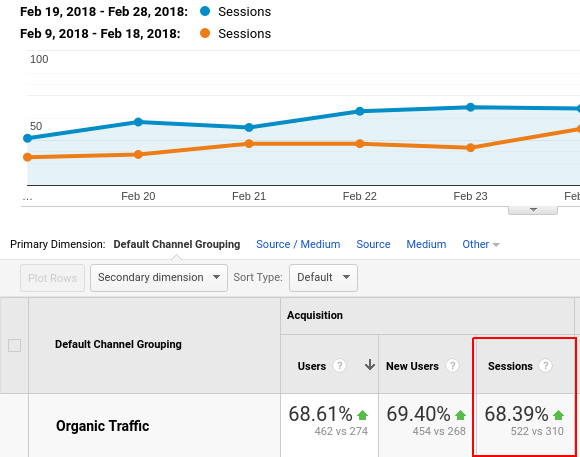 What Did I Do to Increase My Traffic?
It's just one little hack.
Here's what I did:
Instead of "___ review" I changed some post titles to " ____ referral code".
For those of you who are not familiar with this term: A referral code is like a referral/affiliate link. These are generally used in incentive sites and apps.
When someone enters your referral code both of you get a reward(most of the time).
So people have a reason to search for referral codes.
Back when I started doing this, there were only one or two other blogs who had figured it out.
So it was pretty easy to rank in the top 3. Since other blogs had thin content.
All I had to do was write reviews and change the titles to something like "item referral code…".
So what were the results?
See for yourself: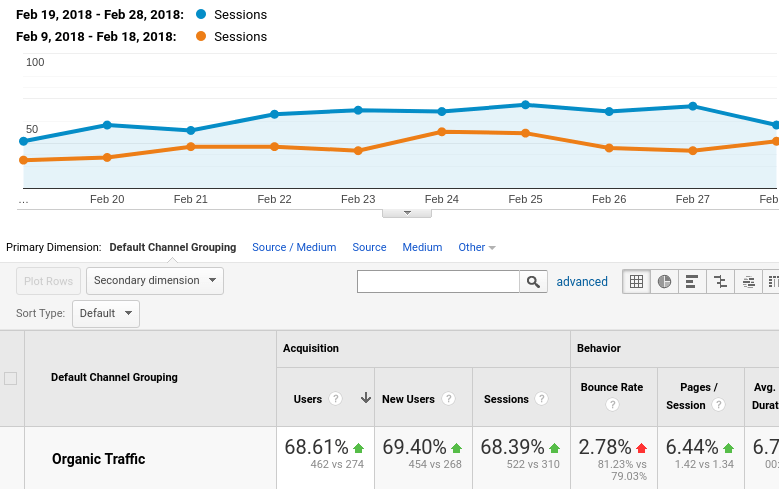 Crazy, right?
Seeing the results I changed the titles and URLs of many other posts. It took Google some time to process that. That's why organic search traffic in March(compared to Feb) only increased by 46%:
But the next month my search traffic went up by 147%!
It didn't stop there. I was able to boost my traffic by 45% the next month:

I think that's enough bragging for today.

So here are the side effects:
The user intent for this type of keywords is not very good for bounce rate.
All that the searchers are looking for is a piece code. they don't care what I have to say. It doesn't matter what the content of the page is.
Almost 85% of the users would just copy the code and that's it.
So while my traffic went up, bounce rate also hovered between 80-90%!
As you already know having a high bounce rate is bad for SEO. And it doesn't really help in building backlinks.
So it became harder to rank for more competitive terms.
And since I was making more money(easily) I didn't put much effort into improving my rank for those keywords.
Don't worry it's not a side effect of the strategy I used.
How Did I Know…?
So how did I figure out that targeting those keywords would drive more traffic?
"Keyword tool"?
Nope.
Those keywords were pretty fresh and no tool had picked them up yet. Another reason why no one was going after them. They didn't know.
The tool that helped me was Google.
And it happened accidentally…
I was about to write a review. Before I started writing I wanted to take a look at the content that was already out there.
So as I'm typing: "app-name r" Google auto-completed it to "app-name referral code".
I had never searched for referral codes before so I knew it wasn't because of my search history. It had to be based on search popularity around my location.
Turns out I was right.
How can you do the same?
I'm aware that Google won't always come out and give you the trending keywords.
You have to find them.
Internet is changing constantly. You will be able to find new keywords/topics in your industry.
You just need to keep trying.
New topics and keywords are inevitable(not just the big purple guy)
"What, wait…"
*Snap*
"I don't feel so good"
Anyway, here's the step by step guide that will help you find new keywords in your niche:
Step 1: Use Google Suggest to Find New Keywords.
Enter a few keywords under the topic you want to write about.
Slowly.
Let google suggest a few keywords.
But don't hit Enter every time google suggests something. It might influence what Google recommends.
Just create a spreadsheet and paste those keywords there.
Only copy new terms, you can use Keywords Everywhere.
Take all the terms that have 0 search volume.

This usually means two things
either there isn't enough data(it's new) or
the keyword has super low search volume.
We are going after keywords with 0 search volume because there's a possibility that their search volume might increase.
Step 2. Filter the Keywords:
Now try to figure out user intent behind those keywords.
Which keyword makes sense and which seems like someone was drunk.
Keep all the keywords that you think people would enter.
Remember people have a reason to search for referral codes.
In the end, you will have all the keywords that make sense.
Step 3. Enter Those Keywords in…
You need to enter your keywords in multiple tools.
Don't worry I'm not gonna ask you to buy Ahref or any other paid tool.
There is no point in buying anyway.
You are looking for information on "new" keywords. There's a high probability that even those tools don't have any accurate data.
So we'll just use the free tools.
1. Enter the keywords in Google and see the results.
Are the results relevant to the user intent?
If yes, can you create better content?
2. Enter your keywords in Ubersuggest and Google Keyword Planner. And paste the data next to the keywords in the spreadsheet.
3. Now enter those keywords in Google Trends.
And observe what the trend is for those keywords.
Note: Most of the time you won't find any data at all.
In that case, you will have to rely on your instincts and knowledge of your industry.
Step 4. Research
Now research and try to figure out why would people enter those keywords now.
Find the cause.
What influenced people to search for "topic".
And if you find a valid reason.
It's time to write and publish.
Before You Jump to Conclusion
I know this method isn't a conventional method. And relies on new patterns of search which may take time.
But new problems appear in every industry. New products and services are launched regularly.
When you write about them, there are two possibilities:
Search volume rises or
It falls
Sometimes the boost in traffic may be temporary. But if your content is amazing, you can capture their emails and it's worth the effort.
This method isn't a surefire way of finding new keywords. But done the right way and with a little bit of luck, this could give your blog the necessary push.
Conclusion
If you wish to get traffic, you will have to create something new.
More than 2.76 million posts are published each day on WordPress alone.
There is competition in every niche.
When you are the new guy, you don't just need to try to create better content and outrank others.
You need to out-think them and create new content.
Because ranking in Google takes time. And it takes a hell of a lot effort to climb the ranks.
You can't outrank blogs that have been in it for 10 or 5 years without getting creative.
You have to find new things in your niche.
Or create something that will help your readers(before anyone else).
This will give you an edge over your competitors.
And establish you as an authority.
Because you aren't creating the same content that has been created a thousand times.
You are creating something new and better.
Your "new" content won't always explode but it's worth trying.
Yep, it's not easy.
If it were easy, everyone would do it.
What would you name this strategy?