Wix is a cloud-based website builder that uses HTML5 technology.
Although Wix is more suitable for business websites you can also create a free subdomain blog.
In this tutorial, you'll learn how to create & properly set up a free blog using Wix.
Let's get started…
Steps to Create a Free Wix Blog:
1. Head over to wix.com and sign up using your email or you can use your Facebook or Google account.
2. Click Let's Do It and answer a few questions to help Wix serve you better or just click Skip. It doesn't make much of a difference.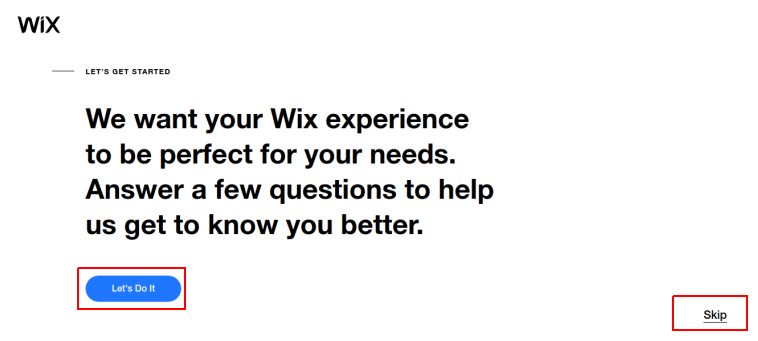 3. Wix gives you two options to create your blog.
Manually or
With the help of ADI(Artificial Design Intelligence).
If you want to use the Wix ADI click on Start Now. If you want to do the work manually click Choose Template.
4. If you choose the ADI, you will need to answer some questions and choose a few other things which will help Wix set up a blog for you:
What type of site do you want to create?
What do you need on your new website? (select features you want on your site)
What is the name of your business or website?
Do you want to import your images and text? (from Facebook Page, website, Google Places)
Pick a template you like (Wix ADI automatically chooses a theme for you)
5. If you want to create your website manually the next step is to select a template. Which is tougher than you might think.
There are hundreds of templates to choose from. Too many.
But if you want to create your blog that looks like the way you want you can choose one of the blank templates. Which makes the job 10x harder.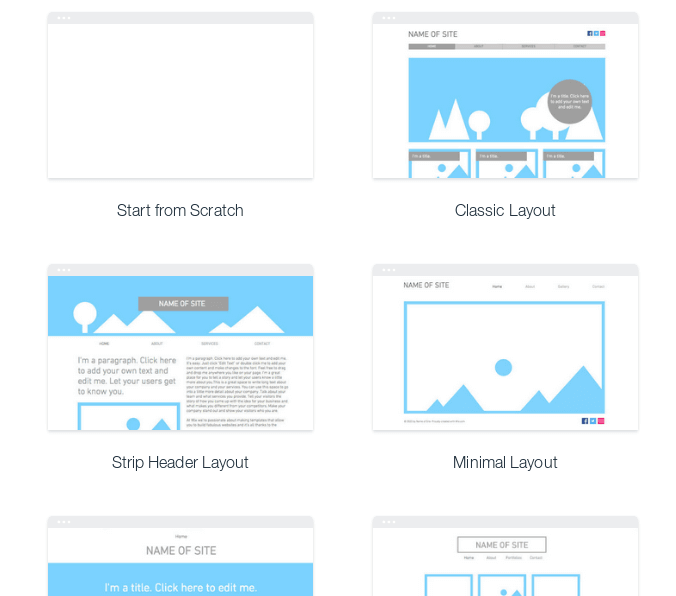 These templates are just layouts which you have to fill with objects like images, headings, text, apps, etc.
There's also a completely blank template which lets you start from scratch.
6. After you have picked your template, it's time to customize it. Wix has a drag & drop website builder that lets you build the design you want. You can customize each element of your blog.
At first, you might be overwhelmed by the sheer number of options and customizations. But as you continue to mess around, you'll get the hang of it.
There's no hurry and don't hurry.
Why?
Because once you have published your site you can't change the template.
You can change the theme of the template. There are a number of themes for every template. They just change the design(color, typography, etc) but the layout(template) remains the same.
7. Once you are sure about the design, Publish your blog. Your blog address would be yourusername.wix.com/yoursitesname. You can change your site name and your username anytime.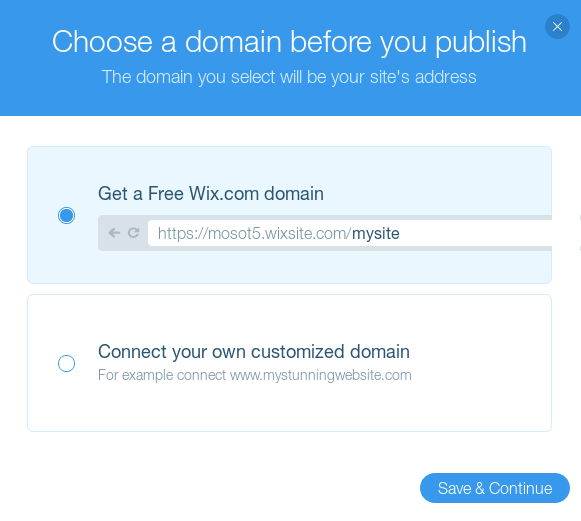 You can also connect a custom domain but this feature is in the paid plans.
Write Your First Blog Post:
After publishing your blog your new dashboard would look like this: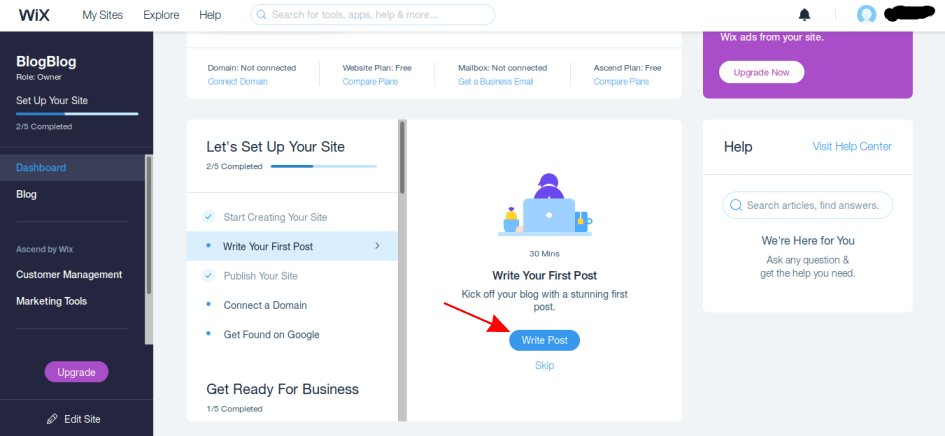 Click Write Post. Alternative you can click Blog > Post > Create New Post.
Wix has a decent editor which is suitable for posts that don't require much sparkle.
But sometimes you would want to add some style to your post and make it visually more appealing,
For that, you can use an HTML block.
But what if you don't know HTML?
Don't worry there's a way around.
You can use a WYSIWYG editor and paste the HTML code in the HTML block. But having some knowledge of CSS, HTML, and Javascript will surely make it easier. You can learn these languages for free at W3Schools.
Once your post is ready to be published, click on Post Settings. In the General tab, you can change the published date or schedule the post, select author(if there are more than one), Excerpt and cover image.
In the SEO tab, you can edit the way your post will appear in search results and post URL.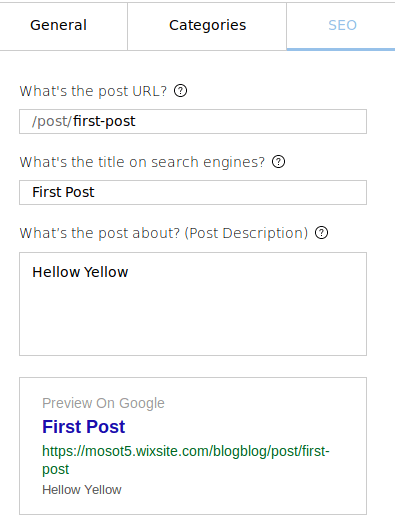 If you are totally new to SEO Wix has this SEO Guide for you.
Click Save & Publish to publish your post or click the 3 dot icon( ⠇) then click Save to save it as draft.
Depending on the way you created your blog you may have some pre-created demo posts. You can delete them from your Blog dashboard.
Click on the 3 dot icon ( ⠇) and then click Delete Post.

Import Posts:
There's also an option to import your WordPress post and media to Wix. Just click the icon shown in the screenshot below and follow the instructions:
Your public posts, images, and videos will be copied and added to your Wix blog.
Your WordPress site and current Wix blog posts won't be affected.
Change your Author name:
You might want to change your author name. Because currently, your Username = Author name
Just enter your name in the Posts dashboard and press enter it will be saved.

Wix App Market:
Like WordPress, Wix has it's own App Marketplace where you can install apps(plugins) that will add more functionality to your site.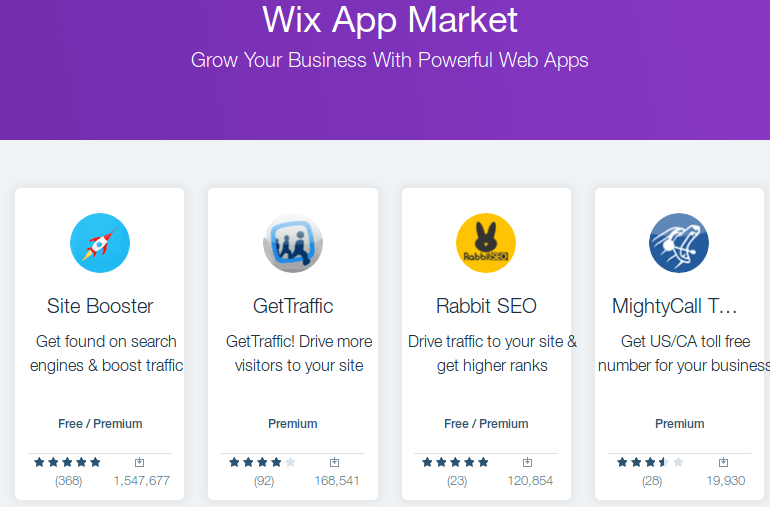 But there aren't many apps(18 to be exact) and most of them are premium.
You can manage your apps from the Manage Apps tab. Here you will find all the installed apps.
If you are wondering why Wix Blog is an app, well I don't know. I'm guessing it's because Wix is designed for businesses and not just blogs.
That's the reason why Wix apps cost so much and there is Ascend.
What is Ascend?
"Ascend by Wix is an all-in-one business solution that allows you to seamlessly interact with your customers, create useful automations, enhance your marketing capabilities and grow your business, all in one place."
There are both free and premium versions of this product.
Now you might be wondering, I just want a blog, why would I need business solutions?
Well because blogging is kinda like a business and there are pretty cool tools.
Customer Management:
Here you can create and edit forms of your blog, manage contact list(this is like a mail list which you can collect with the Wix subscription form)
There are other things you can do like managing workflows, automations, tasks, and reminders.
Marketing Tools:
Here you will find tools for which you would have had to rely on third-party apps in case of other free blogging sites. But like I said Wix is oriented towards business sites, it provides these tools on the site.
Email Marketing:
Email marketing is basically promoting your product through email.
You must have received many emails from companies promoting a product or service. That's what they are.
But what can you use them for?
Ans: To let your subscribers know about your new articles.
You can send emails to your contact lists about new articles.
There are many templates you can use. But I would advise against that. Since you aren't promoting a product or something and your emails might end up in the Promotions tab.
Social Posts:
Wix lets you create awesome images for social media shares. There are hundreds of templates to jumpstart the process and you can also create designs from scratch.
You can share the images to Facebook or Instagram directly from Wix.
But there's one more thing you can use this for- Creating cover images for your posts.
You can pick images or background colors, elements, font family to create attractive cover images.
You can also download the images you create.
Video Maker:
Wix also has an inbuilt promotional video creator.
And the good thing is there are hundreds of templates to choose from.
But the best thing is there is no watermark.
You can create a promotional video for your blog for free that doesn't have a watermark.
Wix SEO Wiz step-by-step plan:
Wix SEO Wiz(ard) is a set of tasks that you need to do in order to get your website on Google.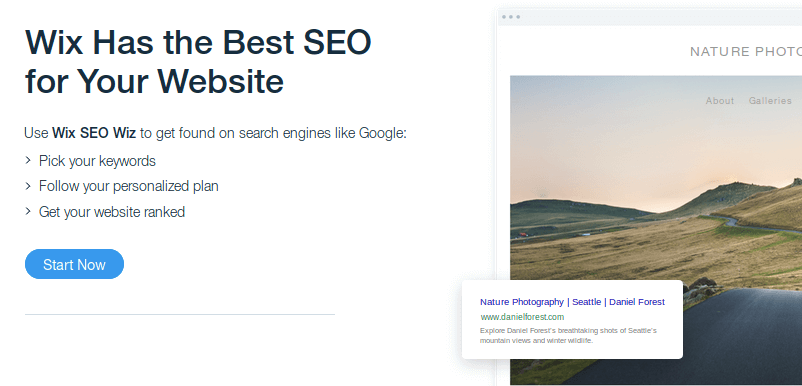 Click Start Now and answer a few questions that will help Wix set up a customized plan for your needs: your business name, if you have a physical business location(told you, it's more suitable for business websites), how would you describe your business, in 3 keywords, etc
Then click Create SEO Plan.
Your SEO plan will have 3 steps. And each step has a list of tasks.
The first step is to get your site listed on Google once you have done everything to complete the step.
Move on to the next steps.
If you are totally new to SEO here's the Wix SEO guide.
Don't worry you can start from the basics as a beginner and move on to the advanced stuff.
Make Money with Your Free Wix Blog:
There aren't many options here.
There's just one way to make money with a free Wix blog: Sell. You can sell other's physical or digital products(affiliate marketing) or your own
Wix Premium Plans:
You can also upgrade to premium plans, which I don't recommend.
If you want to spend money buy a WordPress hosting rather than buying a premium plan. Because Wix is better for businesses and not niche blogs.
Even some businesses use WordPress.
Another reason is that Wix is too expensive but nor Indian users. the premium plan only costs ₹70/Month. And here's what you will get: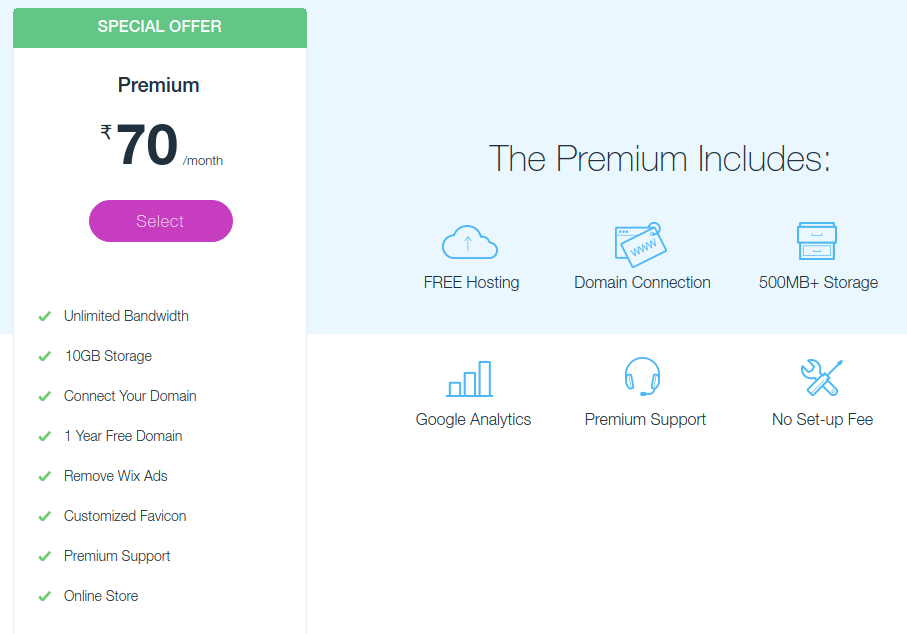 But for users from USA users, the Premium plans start from $13 which is too much if you consider the fact that most WordPress hosting companies cost less than $3/Month for the first year. And yes you get a Free domain for a year as well.
Pros:
Drag & drag website builder
Easy to customize every element
Ability to build a site from scratch
A plethora of templates for websites
SEO wizard for beginners
Walkthrough for every major feature and tool
Many professional tools
Mobile friendly sites
Cons:
You can't change template once the site is published
The sheer number of customizations can be overwhelming
Inability to add third-party apps tools.
You can't edit the source code
Can't be used to show ads from Adsense or any other ad provider
Expensive Premium Plans
Ads from Wix are displayed on your free blog
Conclusion:
On the surface, Wix may seem like a good platform to start your blogging journey but the truth is it isn't. It isn't suited for blogs. As you continue blogging you will need to use many third-party tools which either Wix doesn't support requires you to buy a premium plan.
Here's what I recommend: Create a free Blogspot blog and host a custom domain on it. blogger is totally free service from Google and a custom domain always looks better and more credible than a subdomain. And it doesn't cost much.