WordPress.com is a modified version of the open-source software WordPress.org. There are a few differences between the two.
WordPress.org is software that you need to install on your webserver and manage for your self. For this, you will have to buy hosting.
WordPress.com is content management and hosting service which also lets you create and host websites for free
You can read the full comparison here.
Steps to Create a Blog on WordPress.com:
#1. Go to WordPress.com and Enter your email address, username & password and click Create Account
2. Select the type of site you want to create. Since this tutorial is about 'how to start a free blog' I'll select Blog.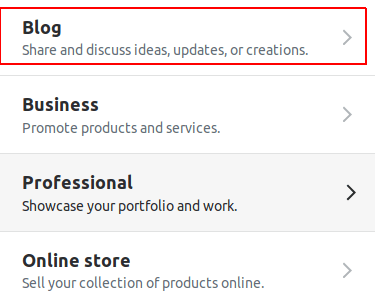 3. Now choose what is your blog about. You can select one of the popular categories or enter your own topic. This will help WordPress build the blog according to your needs.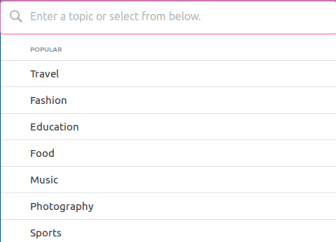 4. Enter your sites name: Title. This will appear at the top of your blog and can be changed at any time.
5. Now it's time to select your site's address. As you already know it will be a subdomain. You can enter the exact name or keywords to get some ideas. Select the one that is Free.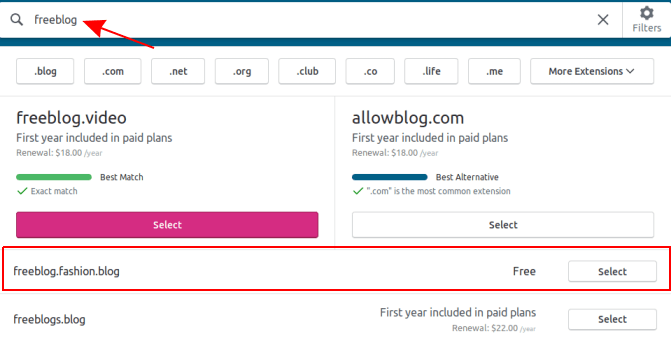 If you don't like the middle part of your domain there's only one thing you can do: pick a different domain name.
6. You'll see all the Plans that WordPress.com has to offer. Click on Start For Free.
Your WordPress blog will be created.
Setting Up Your WordPress Blog:
Your blog is up and running. But there are a few things we need to take care of before you are ready to publish posts and reach the world.
Verify your Email Address
WordPress has already sent a verification mail to the email address you entered in the first step. Click the verification link in the mailer to verify and activate your account.
Create a tagline
Your blog's tagline appears below the title and in the browser tab after the title. Create a tagline according to the topic of your blog.
If you don't want to create a tagline that's okay too. this step isn't necessary. To be honest, the only step that is essential is to verify your email address.
All the other steps are just to make your blog look better and personalized.
Personalize your contact page
You can edit your contact page and its form. This will help your readers get in touch with you.
Upload a logo
You can also create and upload a logo for your blog. There are many sites, software and even mobile apps that let you create a logo for free. There might be some limitations but there is no point in buying a logo for a free blog.
Select a Theme & Customize it
A theme is automatically assigned to your site according to its type and topic. But you can select any other theme and customize it.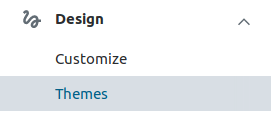 You can change these settings anytime you want.
Now you are ready to publish posts.
How to Write Your First Blog Post:
WordPress has one of the best Block Editors- Gutenberg.
In a block editor, each element like images, paragraphs, headings, etc are blocks. You can move these blocks, copy them, save them to use later and much more.
But the thing that makes it stand out is the preformatted blocks. These blocks can be used to speed up the process of creating posts. In the premium version, you'll be able to install plugins with more blocks but there are plenty of premade blocks to choose from.
Each block is placed under a category.
Currently, WordPress has 80+ blocks.
It's gonna take some time to get used to the block editor but once you do you'll love it.
1. From Site > Click on Posts
2. Click "Add New Post"
3. The block editor will open. Here you can create your post.
4. Each block has it's own settings as you can see below:
If block editor is too complicated and you would like something more simple you can switch to the Classic Editor. Click on the ? mark and then click Switch to Classic Editor.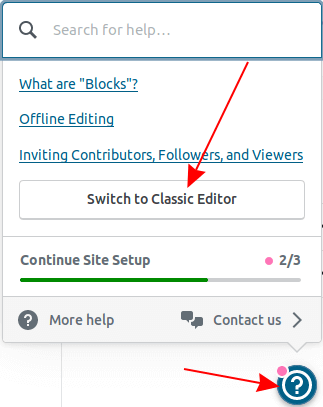 Post Settings:
Before publishing your post you need to edit the Document settings. First up is…
Status and Visibility: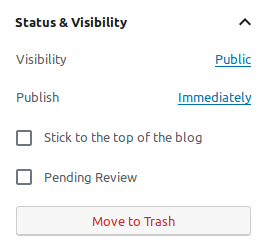 Visibility: You can make your post Public, Private(only site admins can view it) or Password Protected (Protected with a password you choose. Only those with the password can view this post.)
Publish: Select a date for the post to be published. Immediately means it will be published as soon as you hit the Publish button.
Stick to the top of the blog: The post will appear at the top- above your past and future posts.
Pending Review: Post will be saved for review
Permalink:
URL Slug: This is the end part of your post URL- blog.wordpress.com/date/URL-Slug. Keep the URL slug simple, short and relevant to your post.
Categories: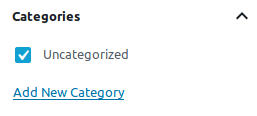 Click "Add New Category" to add new categories. You can select multiple categories for one post.
Tags:
You can add tags to further organize your posts.
Featured Image:

Featured image is the image that appears on your blog above/below the title of the post. For example, if you head to infosmush.com all the images that appear above post titles are featured image.
Click on the box and choose an image.
Try to keep all your featured images equal in width x height. Depending on your theme having featured images of uneven sizes may not look good.
Excerpt:
An excerpt is a piece of text that sometimes appear on the post-page below the post titles. This also depends on the theme you are using.
If you leave this field blank, the first few lines of your post will be used.
Discussion:
Here you can choose to whether people should be able to comment on this post and whether to allow pingbacks and trackbacks.
Pros of WordPress.com:
Block Editor is definitely a pro
Easy to use
Jetpack Essentials(security, stats, site activity, etc)
Built-in support for RSS and subscriber manager
Decent number of premium looking themes with customization options.
No ads
Email support
Cons of WordPress.com
Following are the disadvantages of a Free WordPress.com Blog.
You can't do affiliate marketing
You can't monetize your blog with ads
You can't add third-party widgets or plugins. You are stuck with whatever they give you which is close to nothing.
And of course, your blog address is a subdomain and you don't own it. If you violate any of their terms and conditions your blog will be taken down.
You just get 6 GB of storage.
Conclusion
WordPress has a better editor and it is easy to create more dynamic posts. That's where it beats Blogger and of most of the free blogging sites. It is easier to maintain and since you can't edit theme or add plugins, there's no risk of breaking your site.
WordPress.com is a great platform for you to start a free subdomain blog. But if you want your blog to look a little more professional with a custom domain you should go with Blogger.
Blogger not only lets you create a free .blogspot.com blog but you can also host a domain for free. And if you had published some posts before switching to a custom domain all your old URLs will be redirected to the new ones.