So somethings are happened which I never expected would happen. And I'm pleasantly surprised.
To be exact two things:
Blogger is introducing fresh pages that work well on mobile.
The blogger app was at last updated.
In this review, I'm gonna share my views on these updates and how can you benefit from them.
For those who don't know, Blogger is a Free Content Management System. Blogger lets you publish a website or blog for free and also host a custom domain.
Read: How to Create a Free Blogger Blog and Make Money Online
What's New in Blogger?
There are a few pages that have been updated to look better and have more features than before.
You can access the New Blogger by clicking the Try the New Blogger on the left-bottom of the screen.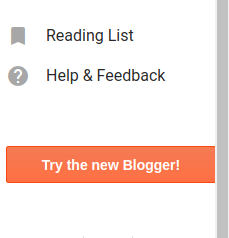 You will see a popup box, click Continue.
As the message in the box says, new updates will be added during the coming months. So what you are able to see now is just the beginning.
Stats Page: In my opinion, this the page that needed the update the most and they did pretty good with the new page. Now you can finally see all the posts that have been viewed rather than just 10 posts.
You can click "More about this blog" to view more details about the traffic.
Comments Page: The new Comments page lets you easily delete, approve and manage the comments.
Themes Page: Well it looks better.
What's New in Blogger App?
So after such a long time they finally decided to update the blogger app.
The new Blogger app finally enables you to write blog posts and upload images wherever you want and not just at the end of the posts.
It looks much better.
But one thing is missing. You can't add links.
So if your posts don't absolutely require to include links, you can publish posts from your phone. But you are still missing the option to add Headings.
So the best use of the Blogger app is to write drafts.
So these are the new stuff that Blogger introduced. As mentioned above they are all set to makeover other pages of the Blogger site. So you can expect more new things.
Of course, Blogger and its app are still missing a lot of features that its users would love to have. But at this point, any update is like a miracle.
What do you think about these updates?